Hey everyone! In this dev blog we have some very important updates, so please continue reading. We have also added the playable Ceratosaurus, the meat chunk system, and put our dev blogs and patch notes in the main menu of the game!
You can watch a video version of this Dev Blog below.
Pre-Release Delayed
In the interest of continued transparency regarding our development process, we wanted to get out in front of something and keep you all in the loop. Back in last week of July, we learned that one of our core developers that works remotely was diagnosed with COVID-19 after becoming symptomatic and admitting himself to the hospital. He has thankfully been able to return home for bed rest to focus on recovery and recuperation. We are in fact a fairly small team, and his role was crucial to our planned deadline. This will result in programming tasks being redistributed between our engineers and ultimately the September pre-release date being delayed as we complete the various milestones for launch.
We want to plan around the assumption that we will be a man down for our pre-release push as his health is a priority, and we will reassess and release another update as we learn more. Regular updates will still continue as we intend to maintain our aggressive schedule as much as we can, and we thank you for the understanding through this situation and for any words of love and support sent out to our teammate as he recovers. Your amazing support through website preorders and even the small things like bug reporting, feedback, and the nice personal messages we get in our Discord make a HUGE difference and really do help us both day to day and during little bumps in the road like this, so a big heartfelt thank you again from all of us. And as a reminder, please stay safe and take all necessary precautions so we can get through this together!
So with all of that said, we have added a few little bits since our last update and here is a quick rundown:
Playable Ceratosaurus
First up, the Ceratosaurus is now in! A mid-sized carnivore with a rough, scaly hide and a row of spines down its back. New Dinos and mechanics will continue rolling in as normal with another Dino coming soon!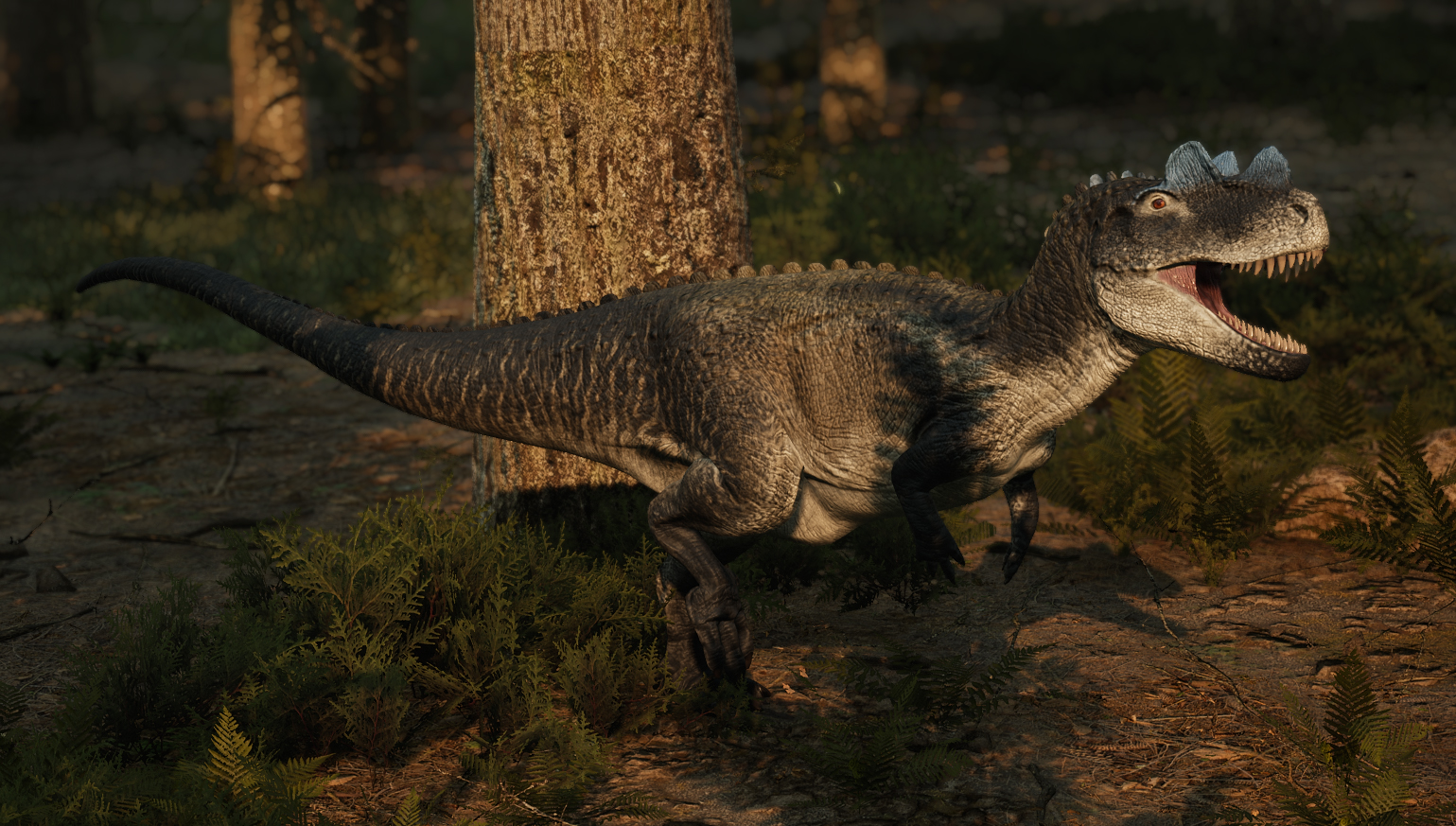 Meat Chunks
Next up, meat chunks! Your Dino can now strip a chunk of meat from a carcass and carry it with them. You can use this as a method to transport food, either as a carnivore taking a snack for a long journey, a scavenger picking off of other Dino's kills, or any other purpose you can think of! Herbivores can carry meat chunks as well, although they can not consume them. Meat will also turn grey over time as it decays, so you will be able to visually judge how rotten any piece of meat may be.
Skin Updates
We have also been working on fixing a major bug that affected all Dino skins, causing them to be darker than intended. This resulted in a number of skins looking muddy and lacking in overall detail. With these new changes, you may re-discover awesome skins that you previously didn't care for, so be sure to spend some time playing around in the character customization menu!
In-Game Patch Notes and Dev Blogs
Dev Blogs and patch notes can now be viewed in game as well, featured on the main menu for your convenience. In the future we will also display a video version of the dev blog that can be watched in-game.
That's all for now! We thank you again for your understanding through these coming weeks and we'll make sure to keep you informed every step of the way. Stay Safe!